2009 Historically Speaking
Topic: books
Just published 2009 Historically Speaking the fourth annual publication of newspaper columns first published in The Oak Ridger.
The book is available in hardback and as an ebook at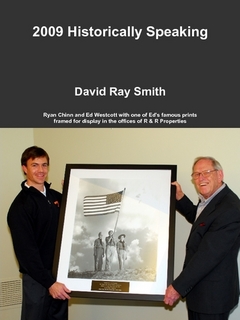 2009 Historically Speaking is the fourth annual volume of historical articles published in The Oak Ridger newspaper. Like others in this series, the weekly stories vary from purely historical events to human interest stories such as the "Two Brothers - A World War II Story" that tells of the struggles these brothers had during the war. One of the series of articles included is the amazing story of the "Oak Ridge Bombers" a semi-professional baseball team from Oak Ridge that existed from the time of the Manhattan Project into the 1960's. This was a proud group of African American men! The history of R & R Properties is included and Rick Chinn wrote the Foreword for the book. The history and some of the unusual events held at the University of Tennessee's Arboretum is included. Finally the history of the Comparative Animal Research Laboratory is also featured. I was pleased to capture these details of Oak Ridge history and am glad to bring them to you in this annual book form.
Ray Smith
Posted by smithdray at 10:38 PM EST
Updated: Saturday, 3 January 2015 12:48 AM EST