Trip to Vail, CO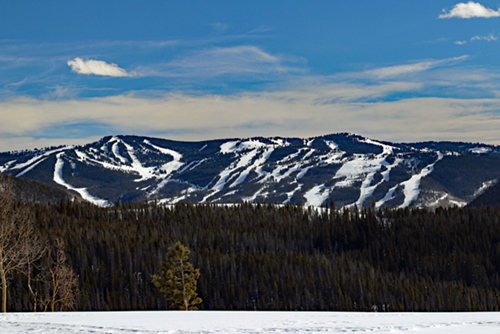 PHOTO: Vail, CO, ski slopes
Here is a link to a presentation about this amazing opportunity: https://youtu.be/D0hc3Mk-tRc
Fanny and I were honored to be invited to a special private four-day Roundtable in Vail, CO, of 25 of the most amazing individuals. They included doctors, sports champions, Blue Angel pilots and US Navy Seals
I routinely provide tours of Oak Ridge to all who request them. The tours range from family groups that bring their grandmother, who worked at Y-12 during the Manhattan Project as a cubicle operator (now affectionately known as a Calutron Girl), back to Oak Ridge for a birthday present, to 65 passenger tourism buses.
It is also not unusual to get specific requests from small groups. One such group of four couples turned into much more than a one-time tour.
While I understood this tour was special, I certainly did not expect it to result in Fanny and me getting invited to Vail, CO! But we did, for a roundtable conference where 25 people met to share life experiences. A most amazing event is all I can say!
Let me tell you just a bit about that special Wednesday to Sunday experience we just finished. First, Vail is a beautiful small city of approximately 5,000 residents nestled in the Vail Valley with mountains on both sides of the valley. It is located in Eagle County, CO.
The Vail Ski Resort for which the town was developed is recognized as the largest ski area in CO. Vail mountain rises to over 11,000 ft in elevation while the city is just over 8,000 ft above sea level.
While there, I was able to enjoy a dogsled ride through the snow and forest as well as a snowmobile trip that included some amazing views of surrounding mountains. Fanny did not participate in the outdoor events, but had a wonderful time in a book review group and just relaxing in the beautiful surroundings. The elevation did cause her breathing problems because of her chronic lung condition.
The roundtable was held daily in the morning, late afternoon and evening. While exploring in the snow was fun, the presentations and discussions at the roundtable were most exciting and enlightening. The reason for this was the selection of individual participants.
The variety of individuals ranged from magicians, to doctors, adventure sports men and women, retired Navy Seals, retired Blue Angel pilots, a shark researcher, a geologist who discovered the world's largest dinosaur, the first person to do a bungie jump from a bridge, climb a new route on Mt Everest and do cataract surgery in Nepal, a 16-year old girl whose legs had no muscle below the knee from birth and were amputated who is now an ice hockey player, a horse trainer who is a bull fighter on horseback, an underwater explorer who located and recovered some of the world's largest treasure ships, a guitar manufacturer, a zookeeper, an Olympic gold medal winning ski racer, a sculptor of animals for the Smithsonian museums and Fanny and me representing Oak Ridge history. See why it was an amazing experience?
The host and hostess are great people who have held these roundtables annually for over 20 years. Each year they seek out unusual places they have not seen and people of interest they have not met. They then bring the individuals together to share their life story or expertise in the supportive group setting in beautiful Vail, CO.
Fanny and I count ourselves extremely fortunate to have been included in such a collection of accomplished individuals. The intriguing history of Oak Ridge is what caused the host and hostess to select us. We were able to tell our Oak Ridge story to these individuals whose lives have focused in many areas other than the history of the Manhattan Project and technological advances such as nuclear medicine.
They were intensely interested in learning about this small city in East Tennessee about which they only knew somehow was connected to the atomic bomb. We were pleased to show them all aspects of Oak Ridge including its role in the Manhattan Project but also the amazing technological advances in the years since.
Posted by smithdray at 8:59 PM EDT
Updated: Monday, 5 October 2020 1:08 AM EDT