---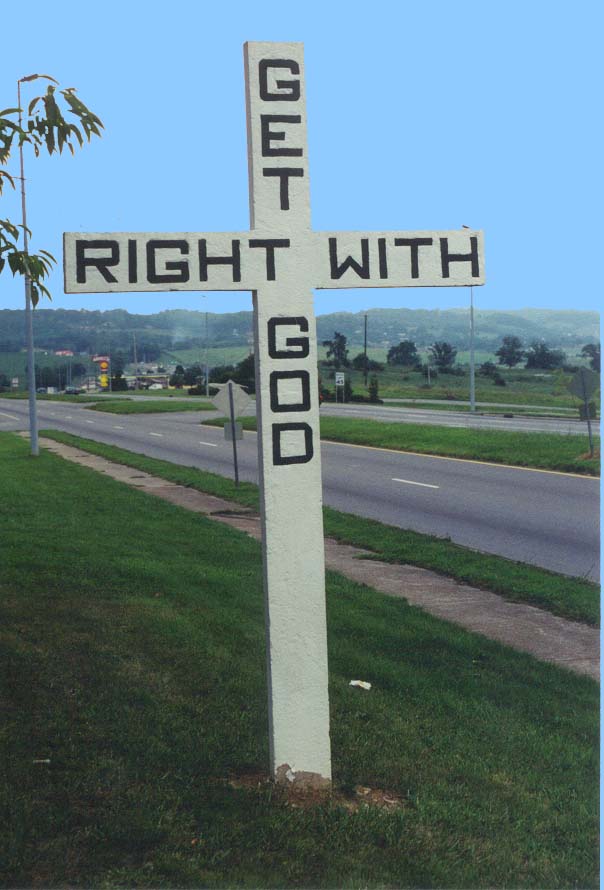 This cross was moved to its present location by Clyde Mayes, Harrison Mayes' son, on Father's Day, June 20, 1999.
It was relocated from old Highway 25-E at Patterson Road, Harrogate, TN. to its present location on new Highway 25-E on the Randy Burchett car lot across from Lincoln Memorial University also in Harrogate, TN. The reverse side of the cross reads "JESUS IS COMING SOON." The cross was made and placed at its original site in the early 1940's by Clyde's father, Henry Harrison Mayes - part of a most interesting and unusual story.
---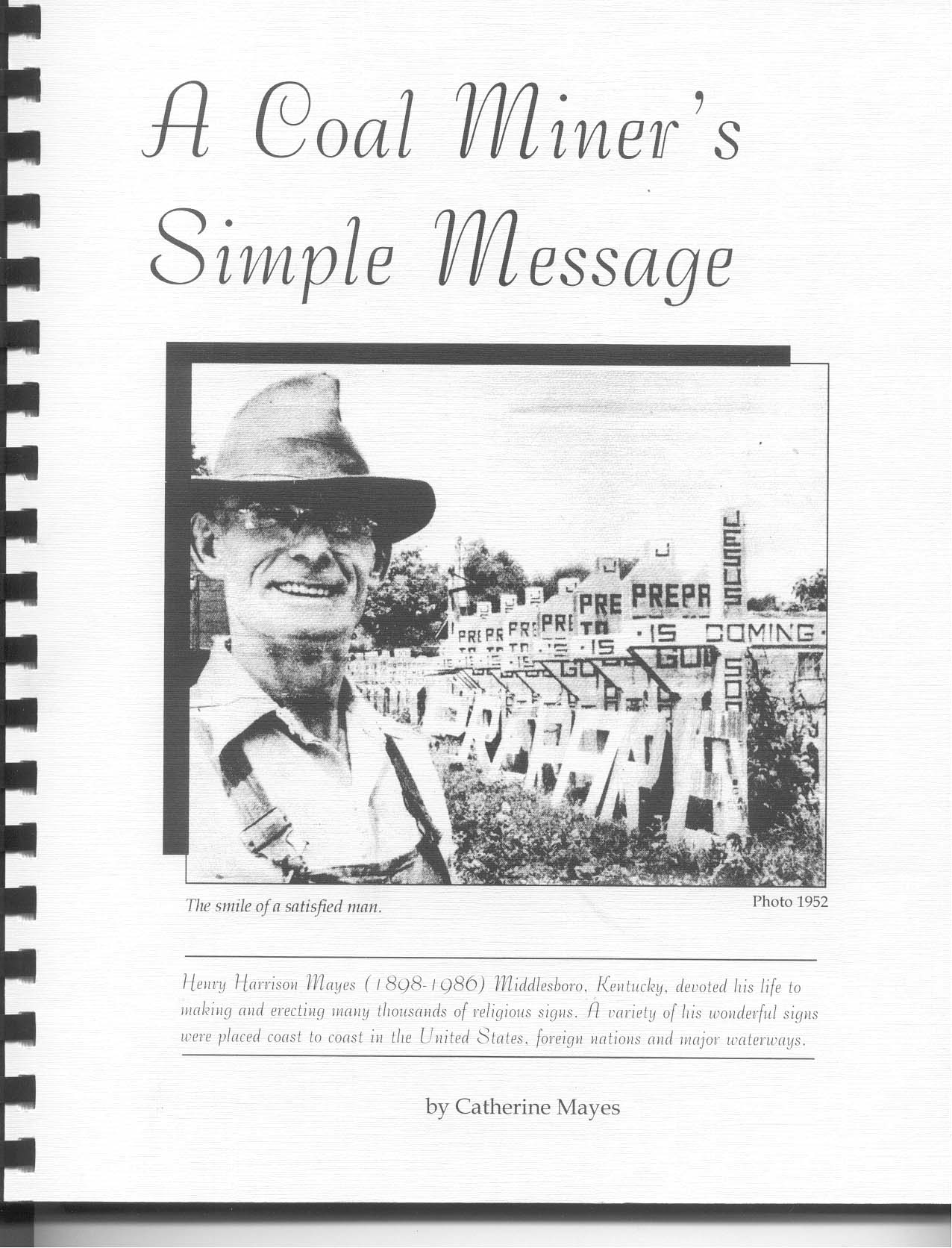 Book written by Catherine Mayes with cover photograph of Harrison Mayes and the collection of finished concrete crosses and signs ready to be installed along roadways across the nation. As Catherine's note under the picture states: This is "The Smile of a Satisfied Man!" Read below to learn why he was so satisfied with his work.
---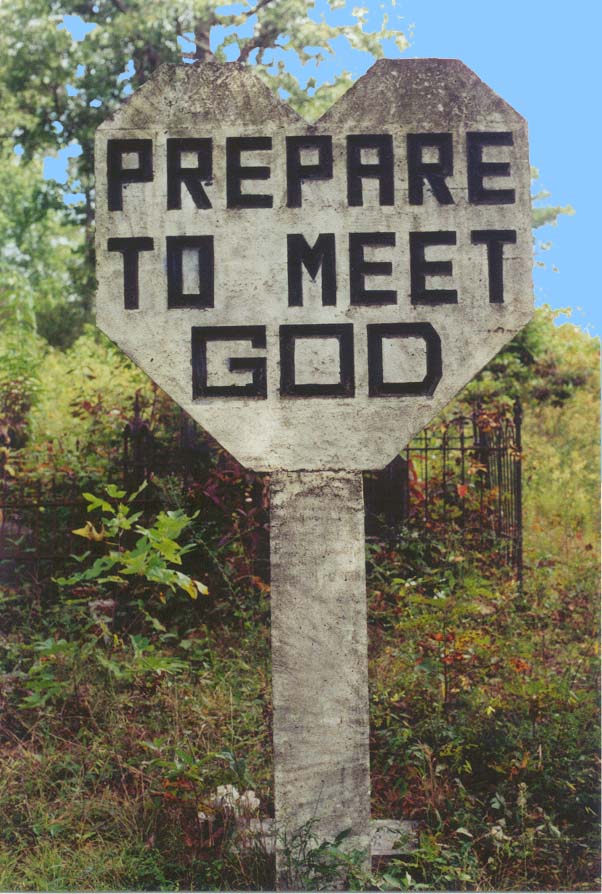 This is the first heart-shaped concrete sign Harrison made and stands in the Fork Ridge Cemetery in Mingo Hollow, TN. Harrison's father, mother, and young sister are buried near where the heart sign now stands.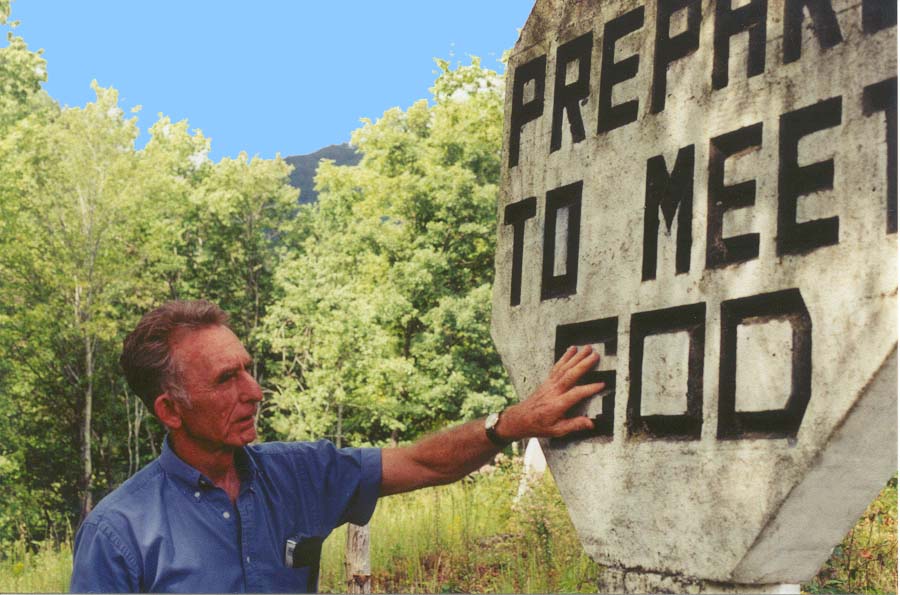 Clyde discusses the details of the sign made by his father as a young man with limited resources but an intense desire to keep his promise to God.
---
Henry Harrison Mayes
1898 - 1986
You may have seen crosses or signs located along heavily traveled highways in many states with some of the following simple messages: JESUS SAVES; WHERE WILL YOU SPEND ETERNITY?; PREPARE TO MEET GOD; JESUS IS SOON COMING; GIVE GOD YOUR HEART; IN TROUBLE? PRAYER CHANGES THINGS; JESUS WILL SAVE YOU; REMEMBER: IF YOU GO TO HELL IT'S YOUR FAULT; THANKS TO GOD FOREVER FOR LANDING ME SAFE THROUGH THE CROSS OF JESUS CHRIST; LOST FOREVER BECAUSE I FORSAKENED THE CROSS OF JESUS CHRIST; NOTICE: OPEN YOUR HEART TO GOD AND SAY: JESUS SAVE ME; JESUS DIED FOR YOU; REGENERATION, SANCTIFICATION, HOLY GHOST BAPTISM; ANCHOR YOUR HEART TO THE CROSS; JESUS IS COMING SOON; GET READY; GET RIGHT AND STAY RIGHT WITH GOD; REMEMBER: IF YOU MISS HEAVEN, IT'S YOUR FAULT; PAE (Planetary Aviation Evangelist); PAEPP (Planetary Aviation Evangelist Past and Present); ADVERTISING GOD SINCE 1918; PLEASE: DON'T LOOK IN THIS HOLE (TRUST IN THE LORD written inside); REMEMBER: YOU AND I FACE ETERNITY, ARE YOU SAVED?.
If you have seen them, maybe you wondered how they came to be there and who might have made and placed them where you saw them. The answer may surprise you and will certainly encourage you. One man made them all! One man who after recovering from being crushed between a coal car and the wall of a coal mine and whom the doctors told his wife Lillie that he would likely not survive the night saw God's healing power in his recovery. A young Henry Harrison Mayes made a commitment to God that he kept the rest of his life. He determined to make signs to uplift God's name. He did this most extraordinary endeavor and did it as a coal miner living first in Fork Ridge, TN. located in Mingo Hollow just southwest of Middlesboro, KY. Then in 1946, he moved his family to Middlesboro, KY where he constructed his home on Chester Avenue in the shape of a cross. On the roof in large letters, to be seen from airplanes flying overhead, Harrison painted "GET RIGHT WITH GOD" and later in even larger letters "JESUS SAVES." However, the largest sign he ever made was located in his wife Lillie's garden behind their small home in Fork Ridge, TN. In the early 1940's, Harrison made a gigantic rock sign of 36 foot letters that read "V - IN GOD." It was flat on the ground as it was intended to be seen from the air and contained 300 tons of white-washed rocks brought to the site in a wheelbarrow.
Henry Harrison Mayes is remembered by his son Clyde for his intense dedication to his life long ambition to display his simple messages about God. Clyde has moved some of the signs that were in danger of being damaged or where roads were relocated. He has retrieved the large metal "gorge sign" that was strung by cable across a gorge near the Riverhill bridge south of Harrogate, TN. The letters of this sign measured four feet high. Other remarkable signs were made by Harrison. Some near airports as far away from his home as West Palm Beach, FL. One of Harrison's air signs (as he called them), is stored in the Tennessee State Museum at Nashville, TN. Catherine Mayes, in her research for the book she has published, has found evidence of airport signs having been located at Little Rock, Memphis, St. Louis, Chicago, Cleveland, Philadelphia, Atlanta, Miami, Raleigh-Durham and Knoxville. Harrison's sign work is also on display at the Smithsonian Institute's Museum of History and Technology in Washington, D.C.
Clyde has built a model of "The House of Many Crosses" the Harrison Mayes home in Middlesboro which is on display at the Museum of Appalachia in Norris, TN. The model contains: the house; the many crosses and other signs stored at the rear; twelve windows in the front for the twelve disciples; ten windows in the back section for the ten commandments; eight outside doors for the eight people saved in Noah's Ark; two main doors with heart-shaped knockers; three heart-shaped porches; a front gate displaying the ten commandments; a heart-shaped sign located to the left of the front section; signs over the double windows in the front reads "Air Castle" and "Middlesboro, Ky." with "Jesus Saves" indented in the concrete header, three chimneys for Jesus and the two thieves at the crucifixion, seven concrete fence posts for the seven continents, eight metal posts and one wooden post represents the nine planets, seven strands of barbed wire in the fence for the seven times Jesus spoke while on the cross, and two large crosses in the front yard. On the top of the house the words "JESUS SAVES" were painted and in the rear of the yard the row of 28 crosses and hearts that had written on them "To be erected in the 1990's" and some of them even had destinations written on them...one destination was Jupiter! You see, Harrison thought we would be traveling in space by now!
Harrison made many different kinds of signs. He once said that before he switched to concrete signs, he had erected some 1,600 wooden signs in 25 states. In addition to many wooden signs - and he continued to make them through the years along with concrete crosses and hearts, he made oil cloth crosses and signs, metal signs, and later he and Lillie even made paper signs which they placed in small bottles and sent to many places around the world to be dropped in the various waters of the world (Catherine's book states they sent out over 56,000 bottles!). Harrison and Lillie thought big, planned long range, worked diligently, used recycled materials almost exclusively and trusted God to provide for the needed funds for the signs ministry. Harrison worked for the Fork Ridge Coal Company in the mines of Mingo Hollow for 43 years. During that time many coal miners would pick up Harrison's metal tag "coal check" # 219 that he had reserved as his Sermon Number for any overtime and holidays he worked to be used to finance the sign work and they would place his Sermon Number on a coal car that they had loaded. This meant the money earned for that car load of coal would be paid to Harrison to be used for the sign work.
In Harrison's later life he became somewhat of a local celebrity riding his bicycle (which he called his "Jeep") in parades with a huge sign on it reading "GET RIGHT WITH GOD" and "ADVERTISING GOD SINCE 1918." His first bicycle is now on display at the Tennessee State Museum in Nashville, TN. He sometimes wore a white dress coat that had 278 crosses drawn on it with a ballpoint pen representing the number of denominations of churches he was aware of at the time.
Desiring to reach as many people as possible with his simple messages, Harrison wrote some of his signs in foreign languages by asking for help from the language departments of the University of Tennessee in Knoxville, TN and Lincoln Memorial University in Harrogate, TN. On the oil cloth signs and the bottle signs he used the local language where missionaries were located and sent the signs and bottles to them. He also would include a few crisp new dollar bills to cover any expense the missionary might have hanging the signs. The cards placed in bottles were sent to places where the following languages were spoken: Greek, German, French, Russian, African, Indonesian, Turkish, Spanish, Chinese, Hebrew, Japanese, Italian, Syrian and English.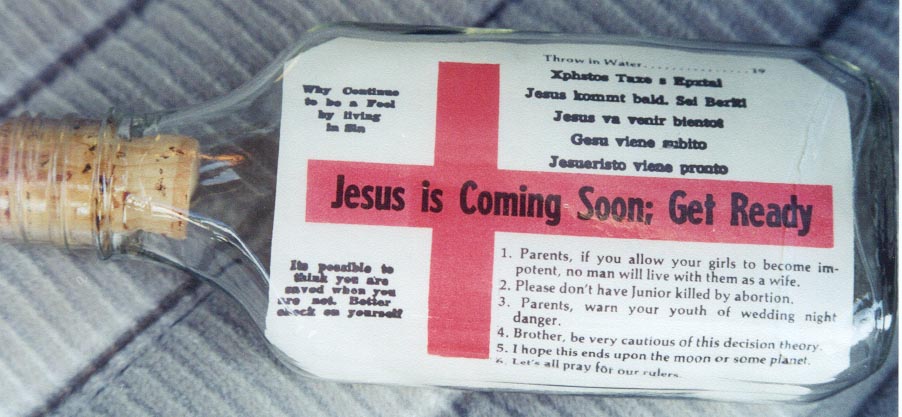 When Harrison died in 1986 he left a concrete block with a handle on top and a hole in the block which contained a "time capsule." On the block was written "Open 10 years after my death." When opened in 1996 Clyde, his brother James, grand daughter Ashley and great grand daughter Kristen found a letter written by Harrison while living at Fork Ridge as a young man. The letter contained his thoughts for future signs he would make. All his life Harrison worked to keep the promise he made to God when he was healed after the tragic mine accident. He was intent on using his life to glorify God by placing his simple messages to where they would be seen by many individuals.
A very special one-of-a-kind cross sign stands in Clyde's back yard. It was found in the Fork Ridge Cemetery by Clyde's nephew, Ronnie Seals while on a visit to Middlesboro. Ronnie's habit was to visit the cemetery each time he came to Middlesboro from his home in Michigan. On a visit in 1998 he found an area of the cemetery recently cleared of brush that he had not visited before. There he found a small standing cross with the message "JESUS SAVES" on it. When Clyde was told of this find, he immediately went to check it out and was pleased to find the letters were the same style as those from a wooden mold Harrison had used. The "baby" cross was removed, carefully and lovingly cleaned of the moss and mildew caused by years of neglect and placed in a special location where Clyde and Catherine can look out their kitchen window and see the cross. Clyde said that the cross had so much coal and gravel in the concrete mixture that the cross glistens in the night lights. He attributes this to the sand, gravel, and bits of coal Harrison picked up where the coal cars were cleaned as he was walking home each day. Harrison used all available methods to obtain his raw materials and managed to obtain all he needed for his signs while earning a coal miner's wage.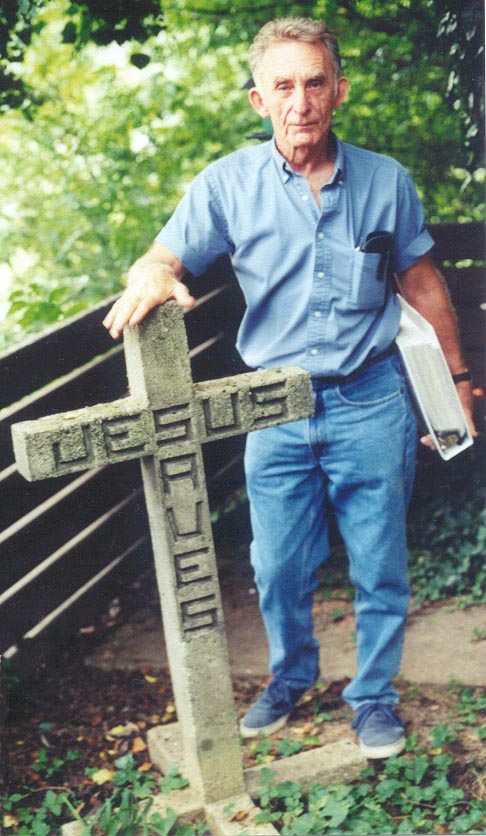 Another cross that has a special significance to Clyde is the "Broken Cross." He learned of it while looking for other signs near Harlan, KY. It had been damaged by road construction. The cross was moved to the Binghamtown Baptist Church where it proudly stands in an unusual display that sends a strong message about God. It seems the section broken out of the cross when it was damaged was the section containing the word "GOD" on the side of the cross which read "GET RIGHT WITH GOD." The minister at the church asked Clyde to make a small metal sign to place where "GOD" would have been saying: "NOTHING WILL STAND WITH THE WORD OF GOD REMOVED."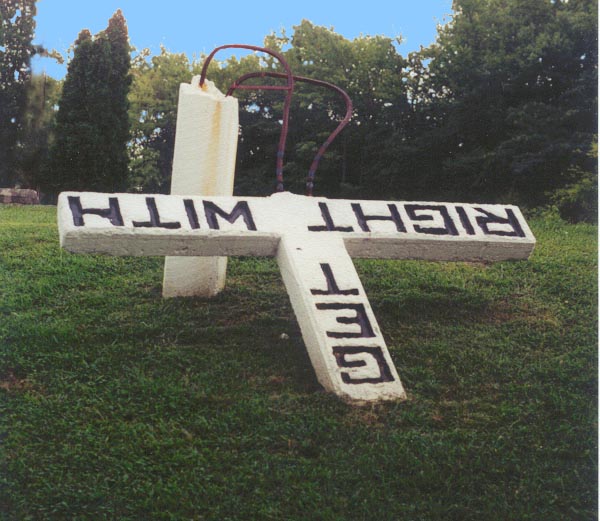 The sign that may hold the most pride for Harrison's descendents is the Lighted Cross that can be seen nightly from the main street in Middlesboro, KY. It is suspended about 10 feet off the ground on a steep hill side that creates an illusion that the cross is floating in mid-air over Cumberland Avenue. The lighted cross is now maintained by JR Morrison. Before his death, JR's father, Johnnie Morrison planned and worked with Daddy Mayes about keeping the cross lit for the citizens of Middlesboro, Ky. The cross shines nightly and has grown to be a proud part of the heritage of this town. The lighted cross continues to remind those who see it of God as Daddy Mayes intended!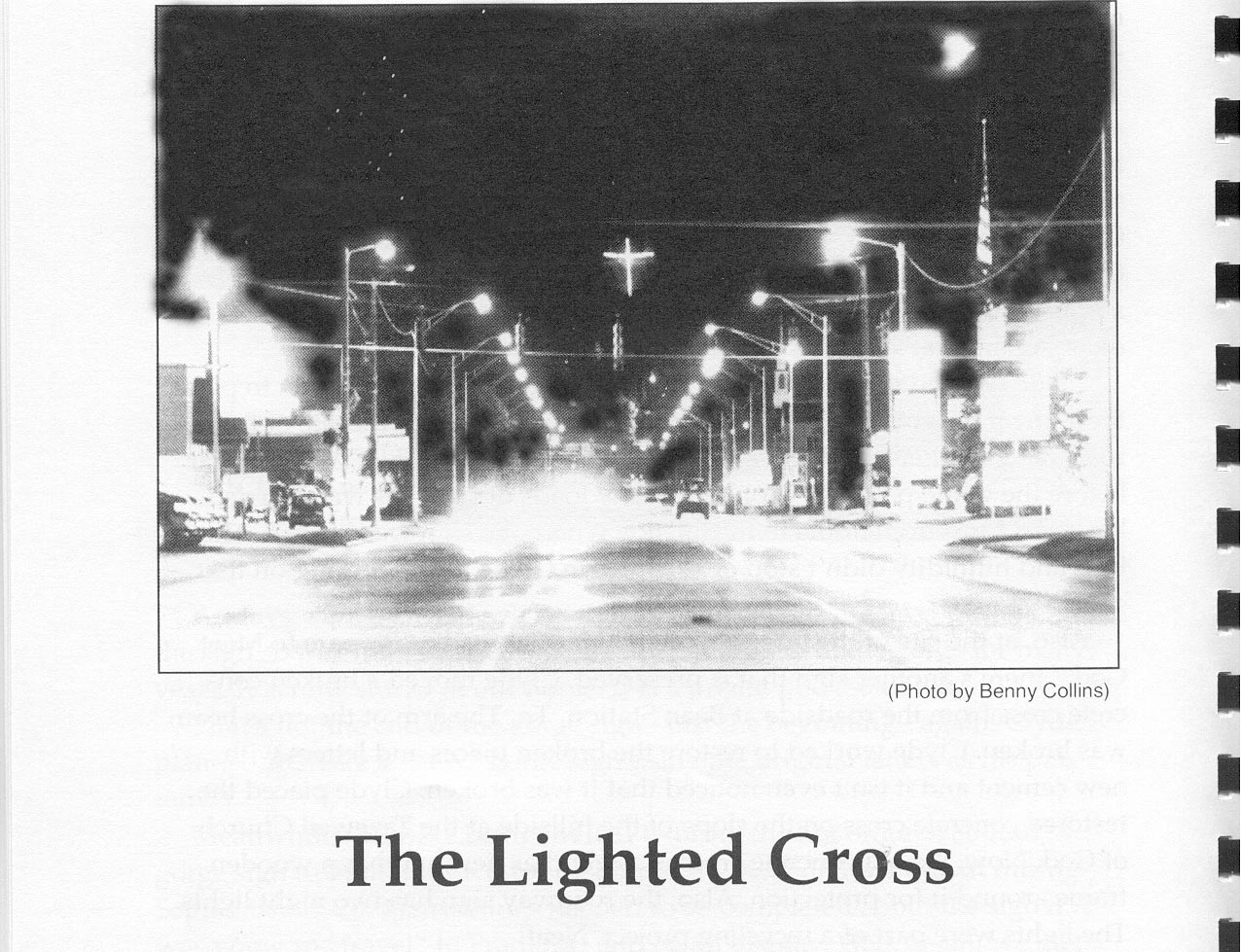 (The above is a page of Catherine's book scanned in the web page. I hope to get a color photograph of that sign soon and will place it here).
Now you have an idea of what one person can accomplish with enough dedicated and consistent effort over a lifetime of commitment. Henry Harrison Mayes, a coal miner with a fifth grade education yet with a grand vision, a creative mind, a loving and supportive wife, the ability to enlist others in his vision, a dedication to helping others learn about God, the willingness to work hard and a living faith that what he was doing was pleasing to God created a lasting and impressive method to cause a great many people to consider where their life and relationship with God stood. His simple messages were straight forward, demanded attention and were built to last. His plan to set crosses and signs into the 1990's (even on Jupiter!), his time capsule and the large number of signs he created that were never installed tell of his desire to see his simple messages sustain their influence on people long after he was gone to be with God. His desire has been realized. I am pleased to provide this story on the internet for many to see and maybe through Harrison Mayes and through the work of his son Clyde Mayes and Clyde's wife Catherine Mayes you might come to know of this dedicated man and appreciate God the way Harrison desired. If he still lived, I dare say he would figure a way to get his simple messages on the internet!
David Ray Smith: September 18, 2000

View My Guestbook
Sign My Guestbook
<!MAIL LIST>

<!RETURN TO HOMEPAGE>


Return to SmithDRay's Home Page and find out more about Who and What is SmithDRay's? Find links to all other SmithDRay's pages.



<!PAGE COUNTER>


This page has been visited ___ times. Thanks! Come Back Often!