Back of Oak Ridge
Written by: Grace Raby Crawford
Edited by: David Ray Smith
NOTE: I have recently published a book in hardback The John Hendrix Story that contains the full Back of Oak Ridge text as well as the six newspaper articles I have published on the history of John Hendrix. This book can be purchased at: The John Hendrix Story
To obtain a copy of this 42 page book rich in history of the times Back of Oak Ridge or the larger hardback book The John Hendrix Story send an e-mail to SmithDRay for ordering instructions or order the hardback book online Click Here. For other books I have written on the history of Oak Ridge Click Here for other books by Ray Smith
---
Back of Oak Ridge is published by SmithDRay Web Pages as a First Edition in limited quantity. The cost is $15 (plus shipping within the USA). This book describes a people who were displaced from their homes to provide the space needed for the greatest industrial challenge the world has ever known that ushered in the Atomic Energy age and helped win World War II. Click here to order your copy of Back to Oak Ridge. Instructions will be provided by return e-mail. Back of Oak Ridge also contains the full text and photos contained in SmithDRay's John Hendrix Page. John Hendrix was the Prophet of Oak Ridge whose vision foretold of the city on Black Oak Ridge, the factory (Y-12) in Bear Creek Valley that helped to win the greatest war the world will ever know and the DOE Federal Office building as the "seat of authority."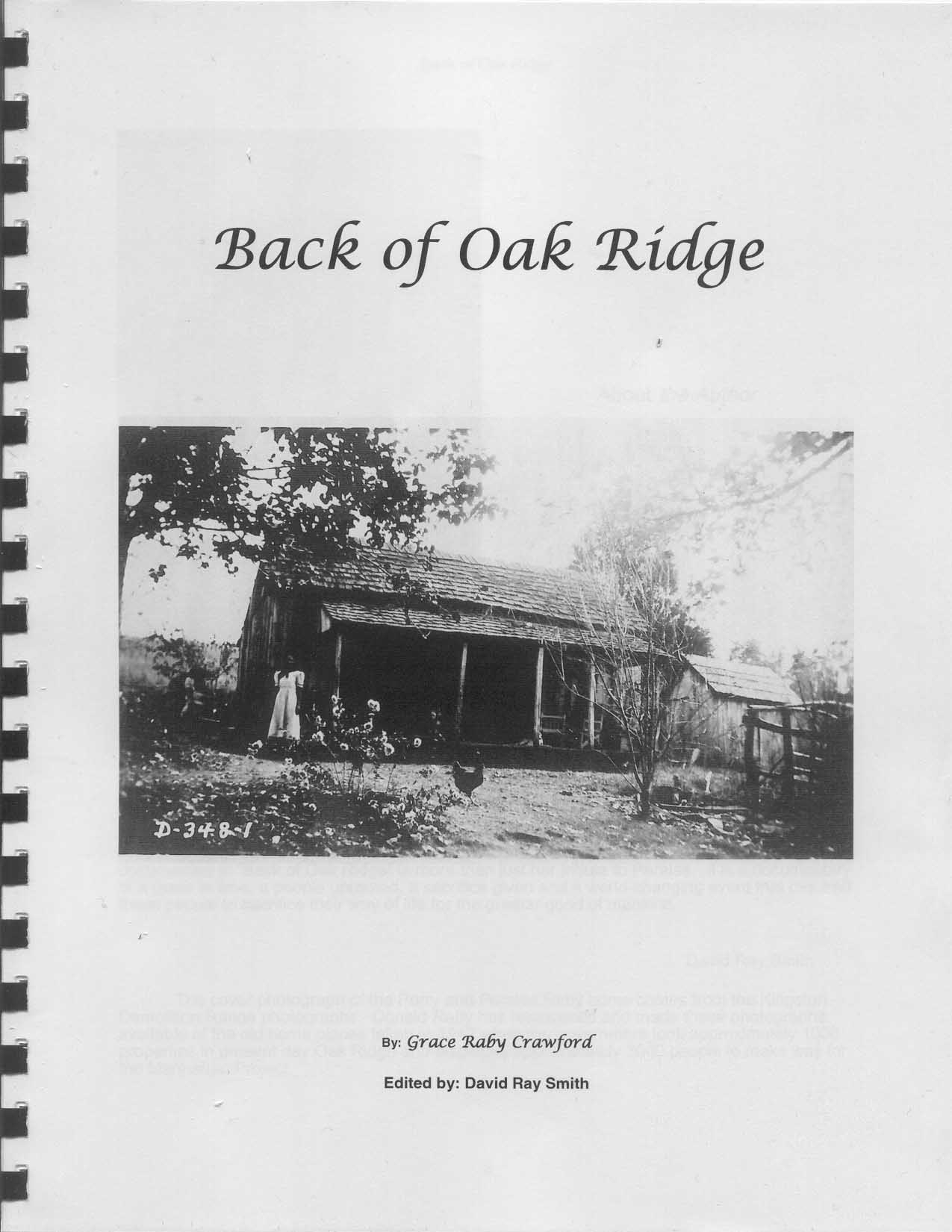 To obtain a copy of this 42 page book rich in history of the times "back of Oak Ridge," send an e-mail to SmithDRay for ordering instructions.
To view the entire contents as a pdf file, click here
To preview sections of the book, click on links below:
---
---
---
---
To obtain a copy, send an e-mail to SmithDRay for ordering instructions.
---
<!MAIL COMMENTS TO (change subject page name)>
Please send any comments or suggestions about this page to Comments
---
<!TELL A FRIEND (change number)>
---
<!TOPICA mailing list (no change)>

<!RETURN TO HOMEPAGE (no change)>


Return to SmithDRay's Home Page and find out more about Who and What is SmithDRay's? Find links to all other SmithDRay's pages.



<!simple counter (change web page name)>
---

This page has been visited

times. Thanks and I hope you check out my other pages!