SmithDRay's
Page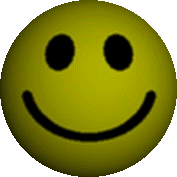 Smiley's are for Sharing!

When you are feeling blue




Or when you are feeling glummy









Sometimes a simple SMILE

Or TWO



Is all it takes to change YOU











From blue or glummy
to
a
SMILE
and then you can
PASS IT ON!!!

















If you found the above message able to create a SMILE on your face, we have succeeded... TOGETHER. So, if you want to encourage someone who may be a bit "blue" or "glummy" or just a person who could use a SMILE, together you and that person can enjoy the experience of creating a SMILE and again, together we all will have succeeded. It is so easy, just click on the bar below:

<!SmithDRay Standard Code> <!TELL A FRIEND>

<!TRIVIA SIGN UP>

<!MAIL COMMENTS TO>

Please send any comments or suggestions about this page to Comments

<!AFFILIATE>

<!MAIL LIST>

<!RETURN TO HOMEPAGE>


Return to SmithDRay's Home Page and find out more about Who and What is SmithDRay's? Find links to all other SmithDRay's pages.



<!PAGE COUNTER>


This page has been visited

times. Thanks! Come Back Often!