SmithDRay's Early American Pattern Glass Page
Esther
by Riverside Glass Company

<!I apologize for the lack of photographs. I lost my files for some reason and am having to redo the photographs. The Riverside ESTHER pattern glass we have is green and gold and we also have a few clear pieces. They are unique and beautiful. Please check back and I hope to have the photographs reposted soon. Thank you for your patience and understanding. Ray> Please be patient as these photo's take a while to load. You might want to go ahead and look at other parts of the site and return here in about 30 seconds...thanks for your understanding. The pieces are rare and beautiful!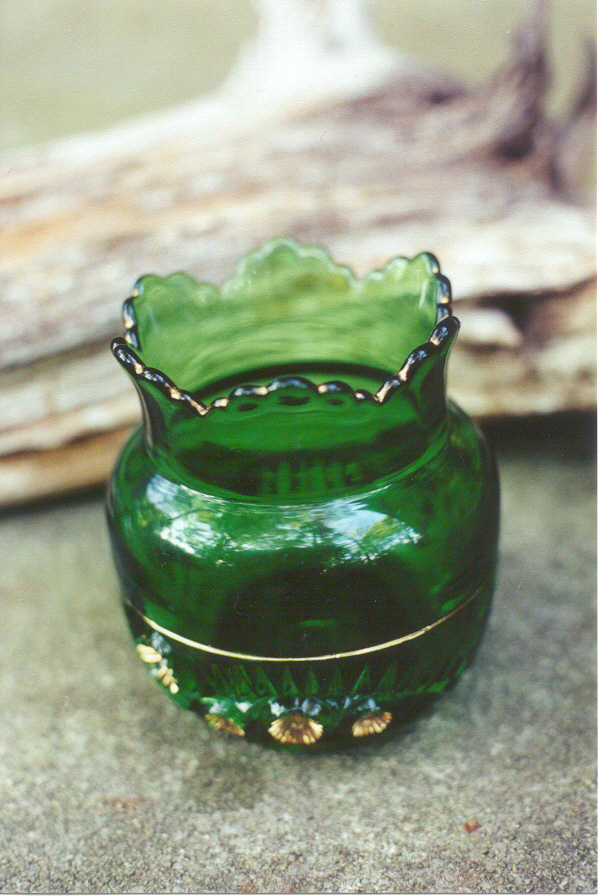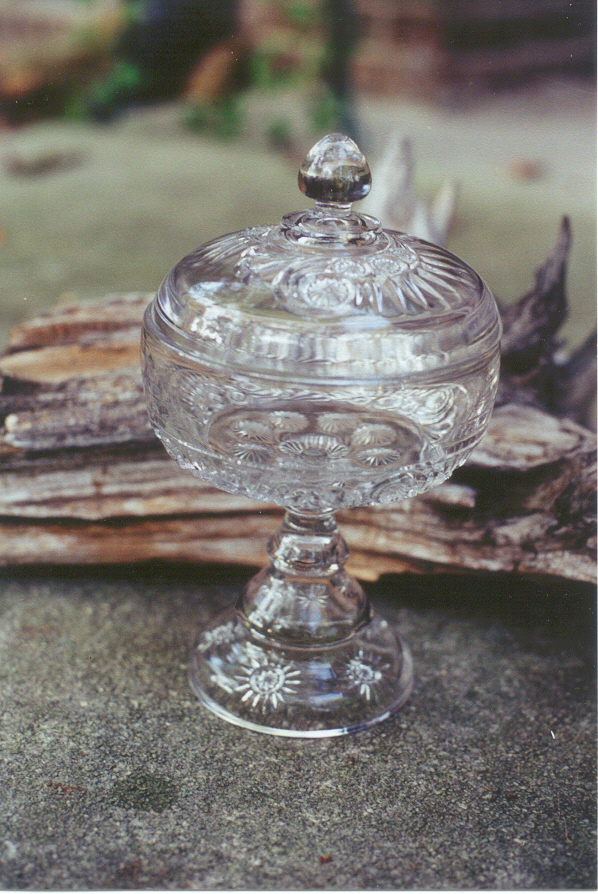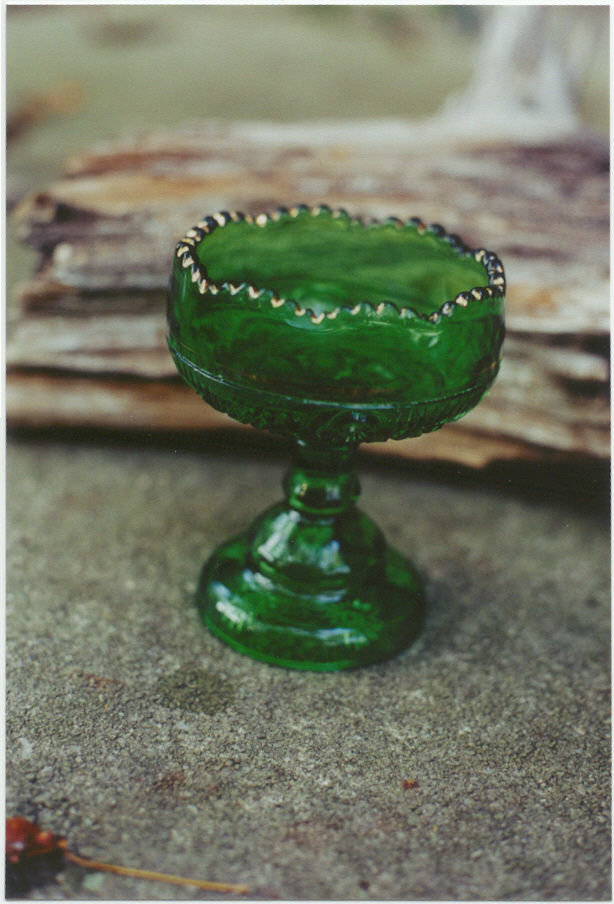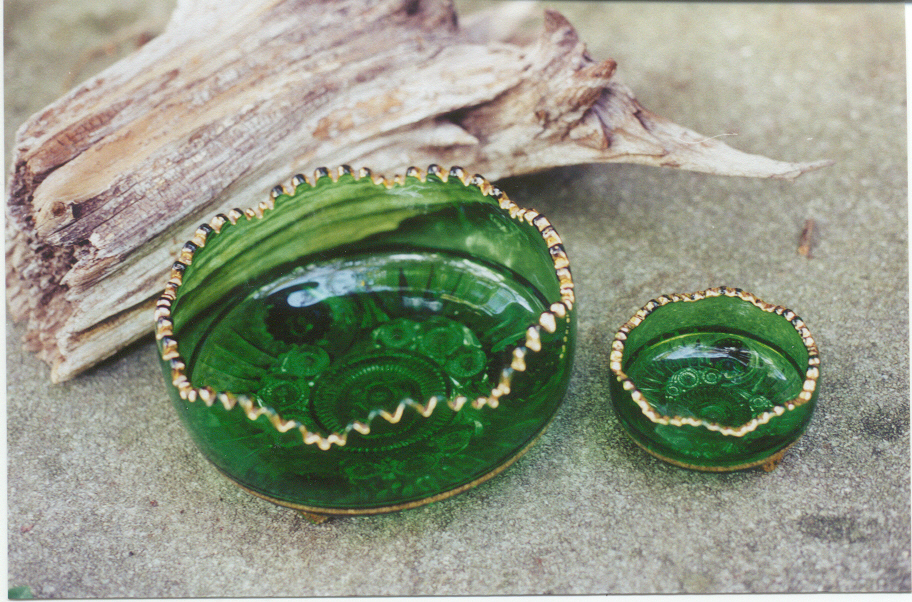 <!img SRC="esterclearcompote.jpg" height=150 width=100 alt="Esther Clear Compote with Lid">
To see an enlarged view of the pieces right click your mouse on an image and then click "zoom in" for a larger image.

Ray & Fanny Smith

e-mail Ray and Fanny Smith

---
---
<!p align="center"> <!a href="http://www.starteasy.com/cgi-bin/send2friend.cgi"><!img src="http://www.starteasy.com/send2friend/images/send2friend_01.gif" width="88" height="31" border="0" alt="Click here to send this site to a friend!"><!/a> <!/p>
---
Our List of Early American Pattern Glass Links
This site has excellent links and connections; Want List; Discussion Forum; Information about events where Early American Pattern Glass is available; collections; and THE EAPG INTERNET MALL!!.
Contains several lists of glass items for sale.
Early American Pattern Glass Society history, publication and membership information.
Early American Pattern Glass Discussion Group List.
Great page of EXCELLENT Early American Pattern Glass LINKS! Reference, events, sales, and everything imaginable concerning Early American Pattern Glass. May be the most helpful page yet!
Here it is!!!!!!! The EAPGlass Internet Mall

<!A HREF="http://members.ebay.com/aboutme/drsmith@esper.com/">SmithDRay's eBay Page

<!Riverside ESTHER Pattern Glass and Fenton Art Glass items we are looking to buy and sell.>

<!A HREF="http://.html">

<!A HREF="http://.html">
---
Other SmithDRay Web Page Links
Who and What is SmithDRay's? Links to all other SmithDRay's pages.
Parenting experience and commentary, list of links to parenting information and resources. Grandparent's perpsective.
Quotes, humor links, e-cards, and just good clean fun stuff.
Writers resources, links, and useful information as well as original opinion on writing issues.
Personal experience with sarcoid, links to helpful resources, and support groups.
History of Nancy Ward as published in the Tennessee Encyclopedia of History and Culture, 1998.
Old, unique and unusual books for sell, swap, or buy. History, Tennessee, Cherokee, and past presidents (especially Jefferson) are areas of special interest.
Early Tennessee History, Cherokee History, and late 1700's United States History. This page contains draft materials on Dragging Canoe.
Religion, church of Christ, and Bible Search.
History of Dragging Canoe, Cherokee War Chief, and other Dragging Canoe links.
History of Emery Road and Walton's Road, first road system from East Tennessee to Middle Tennessee.

<!HR>

<!center> <!IMG SRC="https://smithdray.tripod.com/~SmithDRay/redrose.gif">
<!HR>


This page has been visited
times. Thanks!

Good luck hunting Early American Pattern Glass!

Ray & Fanny Smith

e-mail Ray and Fanny Smith

MEMBER
of the POD
<!p align="center"> <!a href="http://www.starteasy.com/cgi-bin/send2friend.cgi"><!img src="http://www.starteasy.com/send2friend/images/send2friend_01.gif" width="88" height="31" border="0" alt="Click here to send this site to a friend!"><!/a> <!/p>

<!a href="http://aff.webowner.com/info/earn.asp? 38715"><!img src="mailbits-loop-88X31.gif" width="88" height="31">

<!Have A Web Page?>
<!Earn Money And Get More Hits!>
<!A Href="http://aff.webowner.com/info/earn.asp?38715"><!Click Here.>

<!EMBED src = "http://209.50.251.164/heart/saje.mid" autostart="true" hidden="true" loop="true"> <!EMBED src = "saje.mid" autostart="true" hidden="true" loop="true">